The Haute Route
I completed the Haute route from Chamonix to Saas Fee at the third attempt in Spring 1984 with my friend John Armstrong. It was a fantastic trip in every way. We got it all just right; the weather, the snow conditions, even the huts were quiet and with John being Irish the 'craik' was brilliant. It is a long time ago now, we were younger and fitter and I don't think I could do it now although it would be interesting to try.
It took me a while to get it down on paper but eventually in March 1986 the article about the trip was published in FOOTLOOSE (Editor Chris Townsend). The magasine makes interesting reading although now it looks a dated, especially the adverts. Rather than copy the text I have scanned to pages so readers can get a flavour of what a 1986 magasine looked like.
Good company and fantastic memories.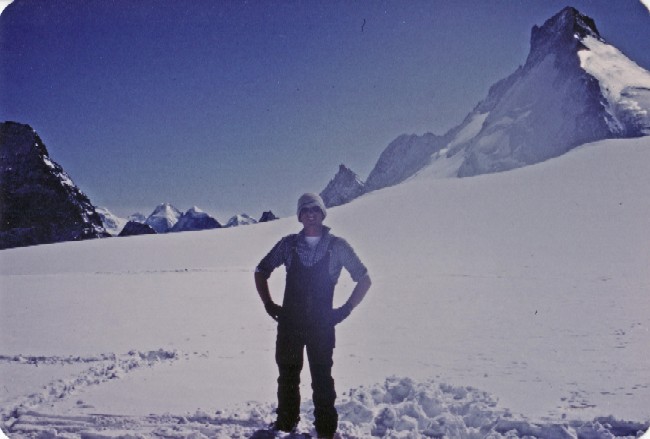 I am on the Col de Valpolline (3568m) with the Matterhorn and Dent d'Herens in the background.
A ski mountaineering highlight at the time and many years afterwards.