petemain.co.uk The meanderings of an outdoorsy sort of person
Summary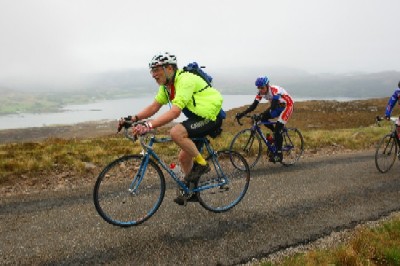 The Bealach na Ba
Photo by Northsport Photography
2009 A (not quite so) Sportive Year
2009 - Some fantastic rides and some dour struggles with a virus and the weather

©Peter Main 2009
2008 - A fantastic year of enjoyable and challenging events.

©Peter Main 2008
Things to Do Around Peurto de Mazarron
Our guide to to the Puerto de Mazarron area on the Costa Calida, Spain
©Peter & Kathryn Main 2007
The Bealach na Ba Challenge (A View from the Back)
My impressions of a demanding, interesting and well organised cycling challenge event in Wester Ross. The route taking in the longest mountain pass in Britain

©Peter Main 2006
A five day cycling trip from Newtonmore to the Orkney Isles via John O'Groats and back home through Aberdeenshire in May 2004.

©Peter Main 2004
A six day cycle tour undertaken in April/May 2003

from Newtonmore through the Western Isles from Barra to Lewis. Involving four ferry crossings and two train journeys.
©Peter Main 2003
Our efforts to run our hostel in an environmentally friendly way

©Peter Main 2002
The Story of Newtonmore Hostel
How and why Newtonmore Hostel was built

©Peter Main 2002
My cycle ride to work at Lagganlia Outdoor Education Centre
©Peter Main 1998
My return to cycle racing in 1993, after a gap of 25 years
©Peter Main 1998
Crawley Wheelers - Those Were the Days
Using information gleaned from my diaries this is a look back at how life in a cycling club was for a young man in the1960's
©Peter Main 1997
The pleasure and problems of taking a group of teenagers climbing in the French Alps. Some thoughts on Outdoor Education, which still apply after over 20 years as an instructor.

©Peter Main 1984
An article published in Footloose Magasine in March 1986 summarising a ski traverse of the Haute Route by Peter Main and John Armstrong in spring 1984.

©Peter Main & Footloose Magasine 1986
A sideways look at staying in small village, in the French Alps, during summer 1984.
©Peter Main 1984